На улице пиздец! Тыкабельно.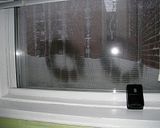 Оно идет уже сутки и еще сутки собирается продолжать.
Если дойдут руки, попозже покажу вам видео как в метро идет снег :о)

UPD: In New York City, 10 inches of snow had fallen before dawn and more was expected. A man was killed by a falling snow-laden tree branch in Central Park, one of at least three deaths being blamed on the storm.
http://news.yahoo.com/s/ap/20100226/ap_on_re_us/us_winter_weather

25см за сутки и до завтра в том же темпе.